Aluminum Pressure Regulators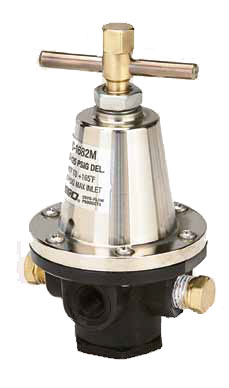 The 1682M Series aluminum pressure regulators are designed primarily for second stage regulation of a variety of gases in industrial piping systems, hospital piping systems and manifold systems. The C-1682M Series is specifically designed for use with Carbon Dioxide.
Features
• Maximum inlet pressure is 400 PSIG.
• Two ¼" F.NPT gauge ports are located 180° apart to allow for gauge mounting in the most convenient positions.
• Each 1680M Series regulator is cleaned and packaged for oxygen per CGA G-4.1.
• 100% Factory Tested
• T-handle adjusting screw.
• Available in three delivery pressure ranges.
• Temperature Range: -40° F to +165°F