Economizer Regulators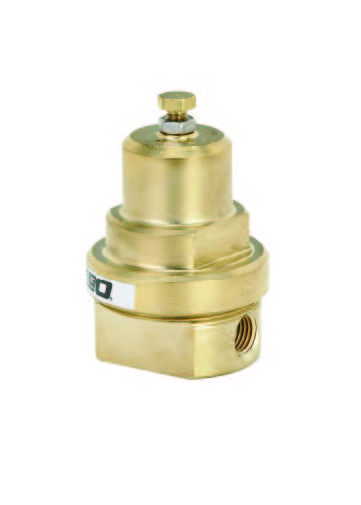 The ECL series cryogenic economizers are primarily designed to utilize the gas pressure in a liquid cryogenic cylinder that would otherwise be lost to the atmosphere through the pressure relief valve. They may also be used in cryogenic lines, vaporizer and converter applications. They are especially useful in installations where space
and cost limitations are important.
Features
All parts are copper alloy (brass), PTFE and stainless steel—materials selected specifically for compatibility with cryogenic temperatures down to -320°F.
Body and bonnet machined from solid brass bar stock.
The ECL Series utilizes a stainless steel needle seat design that provides a very sensitive flow control at lower pressure settings.
High and low pressure economizers are the same compact size—designed to fit in close quarters. The compact high pressure design has no loss of capacity.
Interchangeable with existing cryogenic economizer units.
Inlet filter helps prevent foreign materials from entering the economizer.
Locknut is provided to maintain adjusting screw settings.
Maximum inlet pressure of 550 PSIG.
Cleaned for liquid oxygen service per CGA G-4.1
100% Factory Tested