HD Gas Line Regulators - 1780 Series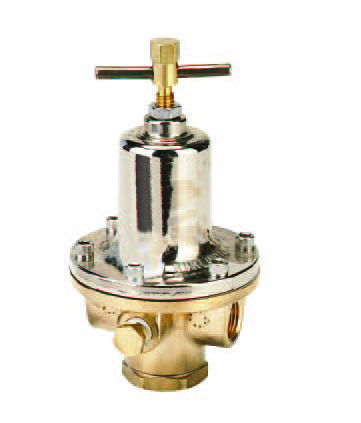 The 1780 Series Regulators are designed for final line pressure regulation on gas distribution systems. They are suitable for a variety of gases in medical or industrial applications. The 1780 Series Regulators have a balanced seat, are constructed with oxygen compatible materials, and have the same valve design, brass body, and internal parts as the premium BR-1780 Series. Flow performance is likewise equal to the BR-1780 Series. For Carbon Dioxide or Nitrous Oxide service: Specify EPDM material for seat disc and O-rings, add "E" to end of part number.

Features
Maintains a steady downstream pressure across a range of inlet pressure commonly provided by a cryogenic bulk tank.
Large seat and diaphragm areas provide high capacity with sensitive control of delivery pressure with low falloff.
Two 1/4" FNPT delivery pressure gauge ports are located (plugged) on each side of the valve.
Two bonnet drain/vent holes to allow for different mounting orientation.
T-handle adjusting screw.
Maximum inlet pressure is 435 psig.
Available in four delivery pressure ranges.
Temperature range: -40° F to +165 F.
Cleaned per CGA G-4.1 for oxygen service.
100% Factory Tested