Rego Automatic Changeover Regulators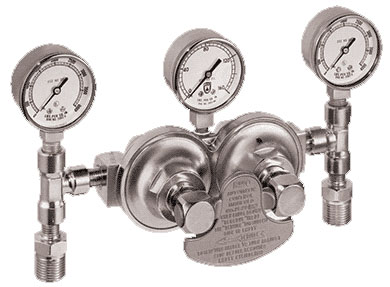 Rego Automatic Changeover Regulators are suitable for use with carbon dioxide, hydrogen, oxygen, industrial air, nitrous oxide, nitrogen, helium and argon. They are designed especially for use in systems where a reserve cylinder is used to provide a continuous, uninterrupted supply of gas.

Key features of Automatic Changeover Regulators:
100% Factory Tested

Factory set at 50 PSIG on service side. CO2 and N2O regulators are factory set at 100 PSIG on service side.

Automatically withdraws from reserve cylinder after exhausting the "service" cylinder.

Porous bronze filters are installed in each inlet to minimize the entry of foreign particles.

Cylinder pressure gauges let you know at a glance which cylinder is in use. There is no need to shutdown the system to replace empty cylinders.

Cleaned per CGA G-4.1 for oxygen service.

Back pressure check valves are installed in each inlet to help assure positive shut-off in case of reverse flow.

Each unit comes complete with mounting bracket and a special delivery pressure adjustment wrench.