ASB Packed Valves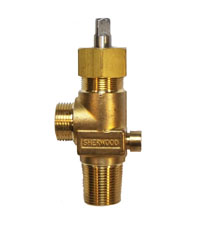 JTC Valves sales, stocks ASB packed valves that are manufactured by Sherwood, keeping in mind your safety and optimal performance.
Application of ASB valve
ASB valves are designed for use in applications that use chlorine gas, liquids, corrosive gases, insecticides, fumigants, bleaching agents and preservatives. All ABS packed line valves available here, are manufactured to offer user convenience and safety.
Features of Sherwood's ABS packed valves
Aluminum silicon bronze valve body is resistant to various corrosive gases

The one-piece Monel stem offers positive shut off and is extremely durable in corrosive gas service

The PTFE packing ensures durable, leak resistant stem seal and ease of operation

The inlets and outlets are as per CGA standard connections as well as international connections

The unitized pressure relief device has a fuse metal backing
A Note:

The buyer has an option of internal packing nut that allows for increased wall thickness and secondary seal cap.
ASB packed valves can be used as inlet valves or outlet valves for a wide range of gas applications. If you are looking for ASB valves that offer highest safety, durability and optimal performance, contact us now. The ASB packed line valve not listed here, is in our warehouse. Write to us for all your specific needs and our experts will contact you right away!
There are no products matching the selection.