Stainless Steel Swing Check Valves 886/886M Series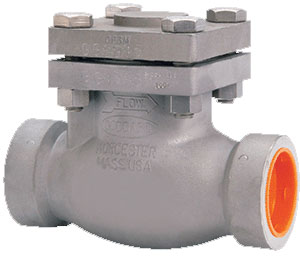 886 Series - Stainless Steel Swing Check Valves - Soft Seat
886M Series - Stainless Steel Swing Check Valves - Metal Seat
Features
•

Top Entry:

This

bolted

bonnet

valve

can

be

permanently

installed

in

the

line

and

services

from

the

top
•

Construction:

Designed

to

prevent

back

flow

in

cryogenic

systems.

Higher

fluid

capacity

(Cv)

than

poppet

or

lift

check

valves.

316L

stainless

steel

investment

cast

body,

cap

and

arm
•

Sizes:

½"

through

4"

(15mm

through

100mm)
•

Ends:

Socket

weld

and

butt

weld

schedule

10

and

40
•

Temperature Rating:

-325°F

to

150°F

(-196°C

to

+66°C)
•

Pressure Rating:

(Cold,

Non-shock)
400

PSIG

(27

Bar)

½"

-

2"
275

PSIG

(19

Bar)

150#

ANSI

Class

3"

and

4"
720

PSIG

(50

Bar)

300#

ANSI

Class

3"

and

4"
PED

Approved,

Approved

for

US

and

Canada
•

Note: Do not use for reciprocating gas service.
•

Our investment cast stainless steel is specified by leading industrial gas companies for storage tank and yard operations.
•

Ideal for liquid atmospheric gases and LNG storage and handling.
•

High cycle life and superior sealing.
•

Valves for hydrogen service can be supplied.
(-425°F to +350°F )