Chlorine Gas Valves - Robust Valves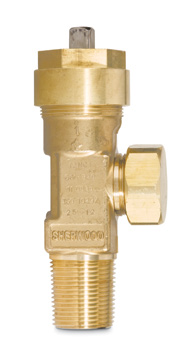 The robust style chlorine gas valves from Sherwood feature heavy-duty bodies and packing nuts for an increased load carrying capacity and resistance against stress corrosion/cracking. These valves are made using a robust Aluminum Silicon Bronze (C64210). The design is approved per the Chlorine Institute Pamphlet 17 Alternate Design Criteria.
This design retains same outlet, inlets, pressure relief device, packing ring, packings, follower, outlet cap, wrenches, yoke, and materials as the basic valve. These valves each also have a one-piece Monel® stem for exceptional durability and positive shut-off, as well as the same choice of PTFE or Garlock® 6130 packing.