Cylinder Valves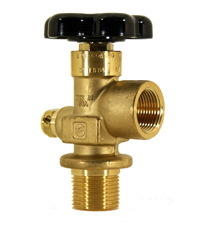 For small ASME containers, cylinder valves are designed for vapor withdrawal service. These valves are used for container for surface area up to 23.8 square feet and UL flow capacity of 645 SCFM/air.
Outstanding Features:
Forged brass body

Aluminum die cast handwheel

Brass stem

Nylon seat disc

Stainless steel relief spring

Tamper and damage resistant one piece relief valve

Relief forged with body for extra strength

Relief valve setting at 312 PSIG

Container connection : ¾" M. NG

Service connection : F. POL (CGA 510)
JTC Cylinder Valves carries a variety of valves to the Compressed Gas, Chlorine, Medical, Welding, Specialty and Semi-Conductor Markets.