GV Series - European Inlet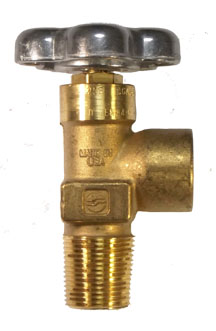 Designed for use in every country around the world. For use in cylinders containing oxygen, argon, carbon dioxide, nitrogen, helium and hydrogen, as well as welding gas mixtures.
Key Features & Benefits
• Automated assembly and testing processes ensure exceptional quality
• 100% helium leak tested
• Heavy-duty forged brass body for durability and high pressure
• Precisely machined internal components meet the most stringent international valve performance standards
• Pressure Relief Device (PRD) is a unitized plug design that provides excellent flow characteristics, ensures proper assembly and tamper resistance
• Metal-to-metal seal below bonnet threads prevents pressure in the threads at top of valve body
• Direct-drive stem design with optimized O-ring (GV) or double O-ring (GVHM) seal reduces friction and operates at exceptionally low torque levels
• Inlet and outlet thread configurations are available for a broad spectrum of customer, country and code specifications
• Tapped for dip tube as required
There are no products matching the selection.