Specialty Gas Valves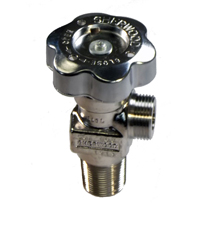 Specialty gas valves have a wide range of applications In the gas industry, providing system critical compressed gas solutions. Specialty gas cylinder valves manufactured by Sherwood are the gas valves that are designed to offer highest safety and reliability. The industrial specialty natural gas valves are manufactured in the USA by an automated process that ensures consistent higher quality products.
Benefits and key features of Sherwood's specialty gas valves
The specialty gas cylinder valves are made from forged brass, aluminum, silicon bronze and 303 stainless steel body that withstands severe conditions

The diaphragm seal is leak-tight as it is tested under the most stringent conditions

The operating torque ensures ease of operation

The complete range of specialty gas valves available with standard CGA connections and international inlets and outlets

Few models of the specialty gas cylinder valves come with an anti-extrusion pin that prevents seat extrusion

The various products available in Specialty gas cylinder valves are:
1. 1032 Series
2. 1214Y Series
3. 5074 Series
4. 5983 Series
5. 6074 Series
6. 6411 Series
7. 6674 Series
Pressure relief device:
The burst disc material is made of nickel 200, copper, stainless steel or platinum-clad nickel

The burst pressure at 165 degree F ranges from 3000 psig to 4000 psgi
Application of Sherwood's specialty gas valves:
Sherwood's specialty gas cylinder valves are used in the following gas applications
Gas mixtures used in laboratories

High purity gases and UHP mixtures

Analytical and instrumentation gases

EPA protocol gases

Environmental monitoring

Medical application that uses pharmaceutical gases

Corrosive gas applications

Cylinder phosphine gas

Atmospheric and purging gases

Dopant gases and reactant gases

Chlorine gas, chlorine liquid

Insecticides and fumigants

Preservatives and bleaching agents

Liquefied gas applications that include refrigerants and flammables

Suitable for propane, butane

Fuel gas applications and sterilant gas applications
If you are searching for specialty gas valves made from highly durable materials like stainless steel or brass, with or without relief devices, low operating torque and application in various industries, find the reliable and highly safe specialty valve here at JTC valve sales.
All valves, regulators, hoses available at JTC Valve sales are designed for your safety and durability. Contact now for specialty natural gas valve or specialty gas cylinder valve requirement at the best price.