1032 Series - Low Pressure Brass Diaphragm Valves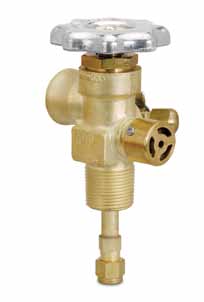 1032 Series - Low Pressure Brass Diaphragm Valves
Sherwood's 1032 Series is designed for use in liquefied gas applications, including refrigerants and flammables, and is especially suitable for propane, butane and fuel-gas applications but also sterilant gas applications.
• High-density forged brass body and two non-perforated stainless steel diaphragms for durability
• Spring-loaded Type CG-7 safety for use on liquified gas cylinders having water capacities not exceeding 254 lbs.
• Nylon seat insert and controlled stem travel assure positive shut-off and long, wear-resistant service
• Inlet and outlet connections comply with CGA V-1 Specifications
• Assembly torque: Bonnet 60 ft-lbs
There are no products matching the selection.